The Nordics have, according to recent studies, outperformed their global peers in business performance metrics during the Covid-19 crisis. The Nordics have proved resilient in the face of the pandemic when it comes to business performance, with all countries in the region bar Norway, showing better TSR (total shareholder returns) averages than global statistics. Leading the results are Denmark which has drastically outperformed its global peers, with Finland and Sweden also more resilient than the global average.

Global Overview -The performance in the first phase of the COVID-19 crisis has been industry-driven

Before we undertake an examination of how the Nordic countries have each responded to the crisis, it is prudent to assess the response of the global markets as means of a comparison.

The overall global performance in the first phase of the COVID-19 crisis has largely been industry-driven. Since the initial crash in March, stock market performances worldwide, at least in some jurisdictions, have recovered well, at least temporarily. Even so, volatility may continue given unknowns in disease progression, the likelihood of a vaccine, and governments' commitment to launching subsequent social and economic measures. While at the aggregate level, we see stock prices returning toward pre-crisis levels, a more granular view reveals divergent trajectories among industries (see pic 1). At the positive end of the spectrum, Healthcare is thriving, with companies on average delivering 11% returns globally since early January. Technology, Media and Telecom (TMT) has also offered positive returns, but there have been significant disparities among its sub-sectors. Technology, for instance, has experienced a surging demand and maintained a positive outlook, whereas media companies have had to cope with both lower advertisement revenues and a rapid shift to in-home media consumption.

Picture 1. Healthcare is Thriving, Energy & Industrial Goods hit hardest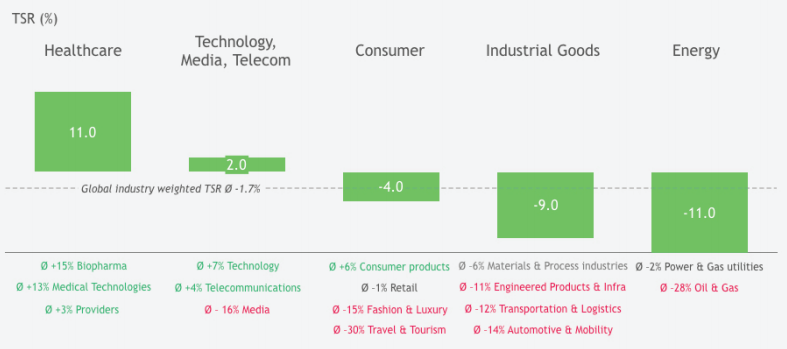 * source S&P capital IQ, BCG analysis
nb: TSR = total share holder returns. Comparison of companies TSR from January 1st to June 19th 2020. Sample consists of global companies with threshold for size adjusted per country, and excludes financial institutions and insurance countries. Figures are rounded

Aside from Healthcare and TMT, the remaining industries under analysis have all shown negative returns since the onset of the COVID-19 crisis. Consumer companies have already seen a small decrease in value creation, driven by a predictably declining demand for travel and luxury products. We also see a decrease in value creation in Industrial Goods (IG) companies, even though the full extent of COVID's financial impact has thus far been limited to certain sub-sectors, mainly automotive, transportation, and logistics. This apparent discrepancy between TSR performance and financial performance has likely been driven by an underlying and common expectation of a longer-term economic slowdown, which would inevitably impact IG companies across the board. Finally, at the most heavily impacted end of the spectrum, Energy has experienced an 11% reduction in returns, the result of COVID-19's exacerbation of an already unsteady and volatile pre-crisis global oil market.
Performance Among Nordic Companies
The above-outlined industry patterns raise two critical questions at the Nordic level: how resilient have Nordic companies been, and how has the effectiveness of their responses compared to global industry peers? To account for global industry patterns and differences in industry mix, we can observe the relative TSR performance of each industry within each Nordic nation and compare it to the average of their global peers. The weighted results according to each industry's market capitalisation can be viewed below (see pic). The results show that Nordic companies have fared well, on average demonstrating greater returns than their global peers. There are some commonalities among the Nordic nations' performances, despite some different approaches to combatting the crisis: the consumer segment, for instance, has maintained a positive TSR in all four countries, and TMT has thrived in Denmark, Finland, and Sweden.

We can see that Denmark has drastically outperformed its peers, both in the Nordic countries and globally. Finland and Sweden have also been more resilient than the global average, however, Norwegian companies, by contrast, have suffered the most, with a higher loss of comparative value.

Picture 2. Performance of the Nordics compared to Global Industry Peers (Total Shareholder Return)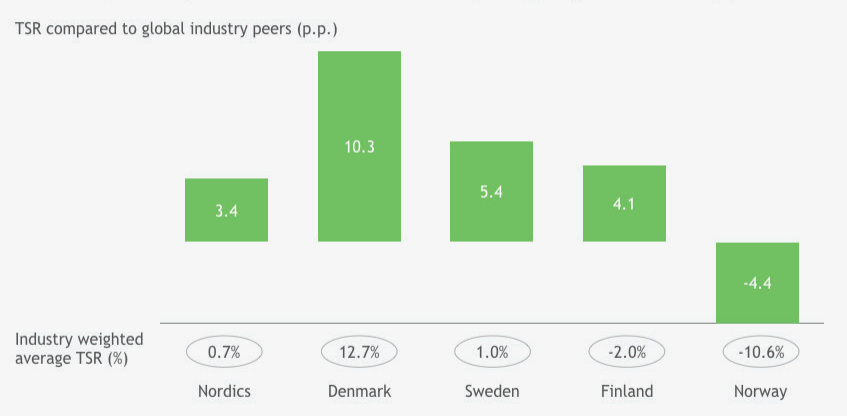 * source S&P capital IQ, BCG analysis
nb: p.p.=percentage points; TSR = total share holder return; Nordic country TSRs compared to global peers are calculated as a difference between the country and global TSR for each industry. Country totals are derived by a weighted average using industry market capitalisation as weights.
Denmark has outperformed its global peers by more than 10pp. Across industries, it has seen a consistent over- or on par performance, with the only exception being Energy. The positive delta to other Nordic countries is primarily explained by above-average returns from Industrial Goods, which in the other Nordics are largely aligned with their global industry peers.

Swedish and Finnish companies have also outperformed their global peers on the whole. Notably, between the two, Finland trails behind Sweden in all segments except TMT. Compared to global averages within both TMT and Energy, Sweden and Finland have experienced returns well in excess of their peers, whereas within Industrial Goods, both nations have performed close to peer level. Sweden's consumer companies represent a notable outlier, outperforming the global average by about 11pp. This seems to be driven by Sweden's online industries, particularly online retail services and entertainment.

Finally, Norway has been the hardest hit Nordic nation. This is at least partially caused by Norway's susceptibility to certain secondary effects of the crisis, notably the extreme fluctuations in oil prices and the weakening of the Norwegian krone, both of which have raised investor concerns. In fact, only within the consumer segment has Norway outperformed global peers, though even here it remains below the other Nordics, likely as a result of the challenges to Norway's significant seafood industry.

Conclusion
We are now 6 months into a global pandemic and the Nordic Countries can look back on a successful strategy and experience of how they have each handled the crisis, although with different nuances and outcomes. There have been several promising vaccine trials conducted with the Swedish/British company AstraZeneca leading one of them. The Nordic Health Care Sector has also proved to be well adept to cope with a pandemic, operating at a far from full capacity throughout the worst period. In addition to the vaccine trials, there are several other Covid-19 treatments that have showed effectiveness and are now are being trialled giving comfort to the Health Care Sector.

The infrastructure of the Nordic schooling systems is also very advanced and has enabled all four countries in the region to deliver on-line teaching and on-line exams without downtime, with Swedish primary schools and nurseries never in lock down or closed. Overall, the Nordic approach throughout the pandemic has been to get the entire society involved, leaning on and trusting industry experts rather than governmental or political intervention. In Denmark for instance it was the teacher unions that have made up the plans on how to re-open up the schools, not the government.

The overall feeling has been one of optimism within the Nordic Region, and with such displays of strength and resilience, many investors have turned to the Nordic Markets with confidence.

Despite these unprecedented and unusual times, the Nordic markets have continued to remain resilient and stable compared to their global peers. Prime Nordic believes that by applying overall diversification, not only to the sectors of the companies in which it invests, but also to their geographic locations throughout the Nordic region, contributes & supports the continued growth and success of the Prime Nordic portfolio.



For a more in-depth analysis of top performers during the previous financial crisis, including case studies and a five-step approach to success, please refer to the *BCG paper Crisis Can Spark Transformation and Renewal

* BCG - Boston Consulting Group