Goodbye 2019 – how will 2020 & beyond turn out?
2019 was a fantastic year for the Nordic Markets. The OMX30, Stockholm Stock Exchange's leading share index, closed the year with gains of 23.44%, whilst the FN25, Nasdaq Nordic's First North index, consisting of the largest and most traded shares listed on the First North Market saw gains of 30.28%, an incredible 170% growth since inception in October 2015.
The Prime Nordic portfolio ended the year with gains of 17% from its initial 7 months of investments (annual equivalent rate 29.14%), which reflects results in conjunction with the business plan forecasts. The portfolio is well "in the money" with profits above and beyond those required to satisfy all expenses & bondholder obligations.
Top Performers of 2019
Diamyd Medical
Two announcements declaring the success of clinical trials at Diamyd Medical signalled bold price moves and exciting news for both Investors and those with Diabetes (both Type 1 & Type 2).
INVISIO
INVISIO continues to enjoy year on year growth in 2019 with Q4 sales and earnings expected to considerably exceed market expectations. Follow up orders from the Belgium army and orders from new clients in the US Department of Defence and the Japanese Police have contributed to the continued growth.
Mangold
Mangold Fondkommision breaks the SEK1000 per share mark for the first time in December 2019 – showing over 60% total gains on the year.
Stillfront Group
At the Stillfront Investor Conference in November, the Group´s strategy and goals were presented and the road map towards a company three times larger within five years, including an in-depth presentation of the organization, M&A agenda and updated financial targets boosted investor confidence.
2020 Nordic Outlook
Prime Nordic forecasts continued growth as we enter the 2020's. Stable regional economic performance with healthy public finances & growing populations support a strong labour market suggesting a bullish outlook for the Nordic markets over the coming years.
The Nordic countries are showing competitive growth in European context
The Nordic are countries expected to show stable and quite homogeneous economic growth over the next 5 years
Eurozone closing in but still a gap in terms of expected GDP growth: 1.9% vs 1.6% per year
The Nordics significantly outgrowing the rest of Europe in terms of population growth: 0.7% vs 0.1% per year
Nordic population growth no longer driven by immigrants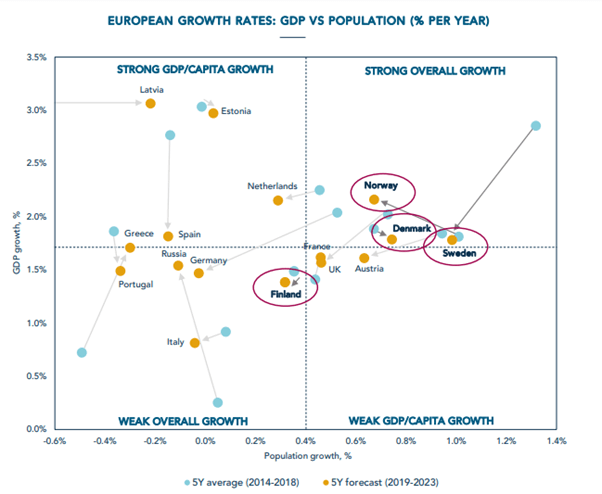 *Source: IMF, Consensus forecasts